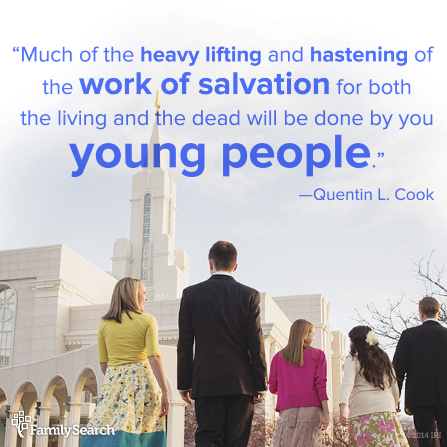 A fun reminder that our ancestors are real people; they were born, laughed, cried, and experienced joy and sorrow just as we do. Now in the spirit world (which is so much closer than we realize), they are helping us feel joy, learn from sorrow, and lift others in the process. They have more of a hand then we realize in this great work of family history. I know my Grandma Badham is helping me from the other side; she told me she would, and I have felt and seen her influence. More to come on that- I will say briefly that, because of family history and divine influence from loving people on the other side, a sweet friend of mine is now reading The Book of Mormon.
Missionary work and family history go hand in hand
.
How Do YOU Remember Them?
Even if you can't seem to see it yet, God is in His Heaven. He knows what He's doing, He knows His plan, and He knows how to use you as a tool to help His plan unfold. Be humble, be willing to listen, and please be ready to obey.
P.S. Be sure to accept Elder Anderson's challenge- really, The Lord's challenge, to serve our family.
Click here
. And don't forget to have fun with the new test version of
FamilySearch.org
. Just log in (or create a free account) to view.